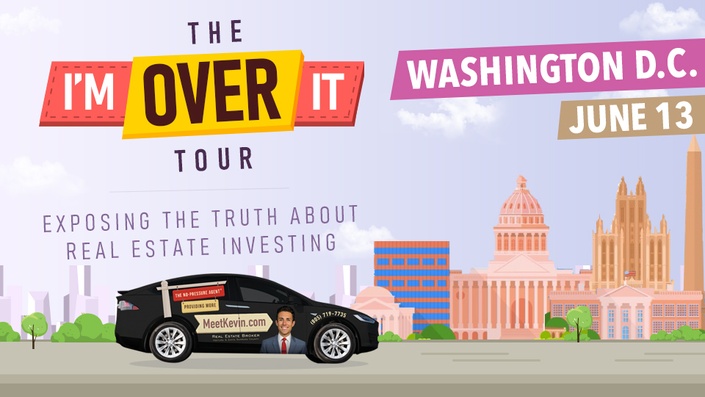 The Real Estate Investor: I'm Over It® Tour: Washington, D.C.
Your 1-Day Real Estate Crash Course Teaching you the Truth about Real Estate Investing.
Watch Promo
The I'm Over It Tour.
I'm OVER the nonsense that's talked about real estate and you should be too. Thank you for considering the decision to transform your life and live the life of a Millionaire Real Estate Investor -- One of Wealth and Passive Income; Congratulations! Here's more information for you on the I'm Over It tour. This course is for a one-day, in-person ONLY event (no video recording), from 10:00-5:00 p.m. on Saturday June 13, 2020 in Washington, D.C.
Cash Flowing Deals, Apartment Deals, Single-Family & Small Deals, Commercial Real Estate, Wedge Deals, Wholesaling, You Name It: We'll Talk About It.
What you Get:
✅Private, Small-Group Real Estate Investing CRASH COURSE.
✅Mentoring and Direct Q&A with Kevin at the event.
✅Access to our private Discord Channel for attendees. Questions, Announcements, & more info.
✅The knowledge to catapult your real estate investments to the next level.
✅A clear understanding of what's holding you back.
✅Fill-in, Meet Kevin® Action-Plan Booklet.
Warning: This is intended to be a small event of 10-50 attendees so that each person, if they'd like, can receive custom help about their situation. It's going to be an interactive, exciting, energy-inducing event. The point of this event is to help you overcome whatever is stopping you from investing in real estate. There will be NO UPSELLS at the day of the event -- this is not an event to sell you something. It's an event to teach you and help you -- because I'm Over It (in terms of the education that exists out there now). Therefore, I hope you take advantage of this one-day event and join me.
Schedule:

☑️9:00-9:30 a.m.: Arrival and Introductions.
☑️10:00 a.m. SHARP: Session 1 to 1:00 p.m.
☑️1:00 p.m.: Lunch to 2:00 p.m. (lunch is not provided).
☑️2:00 p.m. SHARP: Session 2 to 4:00 p.m.
☑️4:00 p.m.: Q&A.
☑️5:00 p.m.: Event Ends.
We Will Cover:
✅Fundamentals to Start.
✅How to Shop & Find Deals.
✅How to Finance your Deals.
✅Value your Deals.
✅Negotiate your Deals.
✅Communication Tricks.
✅Inspections & Negotiations.
✅Renovations, Contractors, and Coordination.
✅Hacks: BRRRR, House Hacking, Etc.
✅Property Types.
✅Wholesaling, Flipping, Buy & Hold, Funds & Syndicates.
✅MUST FOLLOW Rules of Investing.
✅Insurance & Legal Protection.
✅How to Start at ANY Income.
✅Tax Strategies & Outlook.
✅Property Management.
You Will:

🔰Learn how to build your net worth INSTANTLY with

Wedge Deals.

🔰Learn how to build your

cashflow

and

passive income.

🔰Learn the

psychology

of the investing in real estate and mastering deals.
🔰Learn how to communicate with contractors, agents, lenders to get the best DEALs

and make them smooth.

🔰Understand not just the textbook fundamentals of how to calculate cashflow, but how to actually FIND cashflow and what it means to you -- look at real estate from a different perspective.
🔰This is much more than an overview of real estate investing. It's a way to change your mindset and let you become a

life-style real estate investor

.
🔰When you master this lifestyle, passive income and any of your visions will be significantly easier to attain.
Meet Kevin's Mission Statement:

❇️Teach the psychology needed to succeed as a Millionaire investor for life, the art of negotiation and deal making, and how to make passive income and cashflow.
Is This Right For You?
Meet Kevin teaches the principles and fundamentals of real estate investing to take you to the next level of wealth no matter what your experience is:
6-Hour, One-Day Real Estate Event is Great For:
✅Have ZERO Investing Experience.
✅Have SOME Investing Experience.
✅You're Looking for

Passive Income and Cashflow

.
✅You're Looking for a Side-Hustle to Build Wealth.
✅You're Hunting for Deals (Including Wholesaling).
✅You're Licensed OR NOT.
✅You Speak English (

Useful Globally / Internationally

).
Or you are:
✅A Brand-New Investor ($0 Net Worth) -- Step-by-step guide.
✅A

Somewhat Experienced Investor ($25,000-250,000 Net Worth).

✅A

Experienced Investor ($250,001+ Net Worth).

✅ALSO extremely useful for: Agents, brokers, lenders, CPAs, & industry members (clients expect you know this; why not make it easy for you to make sure you do?).
-----
Tour Destinations
2019

:

June 22: New York City.
July 13: Chicago, IL.
August 17: Seattle, WA.
September 14: Austin, TX.
October 12: Miami, FL.
November 16: San Francisco, CA.
December 7: Charlotte, NC.

2020

:

January 18: Atlanta, GA.
February 20: Las Vegas, NV (10X)
April 18: Los Angeles, CA.
May 16: Boston, MA.
June 13: Washington, D.C.
This is a one-day, in-person event. No online content is guaranteed or included.
---------Disclaimers---------

❎I am not a CPA, attorney, insurance, or financial advisor and the information in these videos shall not be construed as tax, legal, insurance, or financial advice. If you need such advice, please contact a qualified CPA, attorney, insurance agent, or financial advisor. Linked items may create a financial benefit for Meet Kevin®.
Trademarked Slogans (NO Use Without Written Permission):
⛔️Meet Kevin ®
⛔️No-Pressure Agent ®
⛔️Providing More ®
The Paffrath Organization does business as (D.B.A.) Meet Kevin®, a corporation licensed in the state of California as a Real Estate Brokerage: DRE: 02032575. General-Liability insured. Errors-&-Omissions Insured. Worker's-Comp Insured.
Your Instructor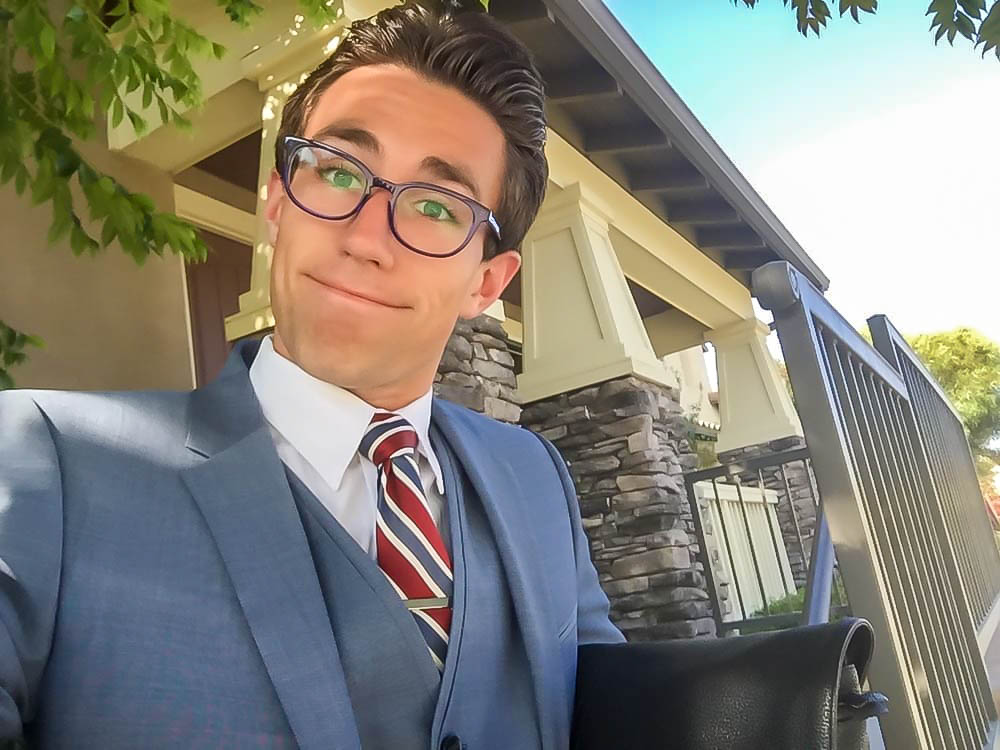 Hey everyone, Meet Kevin here! I'm Kevin - from Youtube! Over 1,080,000 of you have subscribed (I'm so grateful for y'all!) and have made it to #1 on the United States trending page on Youtube.com! I have sold over $130,000,000 in real estate and transacted over 300 individual deals, renovations, rentals, apartment buildings, vacation rentals, etc. In addition to my background in finance as a licensed loan broker, economics, corporate finance, accounting, and financial analysis, I practiced construction as licensed general contractor doing structural additions and remodels. I also have a strong background in property management and I am excited to share the experiences of myself, my father-in-law (35 years in real estate investing & sales), and my mother-in-law (35 years in property management, managing hundreds of units), and wife (11 years in management). These experiences will help you develop your skills in sales, client retention and expansion, investing, appraisals, valuation, finding the wedge (great deals), and building a portfolio built to last; for wealth and freedom. Start learning about sales, passive income, cashflow, and money today and these skillsets carry over to stocks as well.
Course Curriculum
First Section
Available in days
days after you enroll
Frequently Asked Questions
Is this an in-person event?
Yes, this is a one-day, in person event. This does not include any online material (though we may use Discord to communicate as a group).
Is this good for one location or multiple?
Each purchase grants you access to one location, one time. That is, one purchase = one Saturday event.
This course is closed for enrollment.